Service, Delivery & Cleaning Robots
Reduce Costs and Boost Staff  Efficiency with Our Automated Service Robots!
Meet Your New Team
From robot waiters, cleaning solutions and advertising options. Start your robot team today. 
BellaBot Delivery Robot
Our premium service robot ideally suited to customer service environments requiring delivery and light clearance.
Pudu2 Delivery Robot
Universal delivery robot. Can be used in hospitality, medical and hospitality and light delivery and service load carrying roles.
Hola Delivery Robot
Delivery robot with pager and notification abilities. Ideal for use in hospitality where large capacity delivery and service loads are required.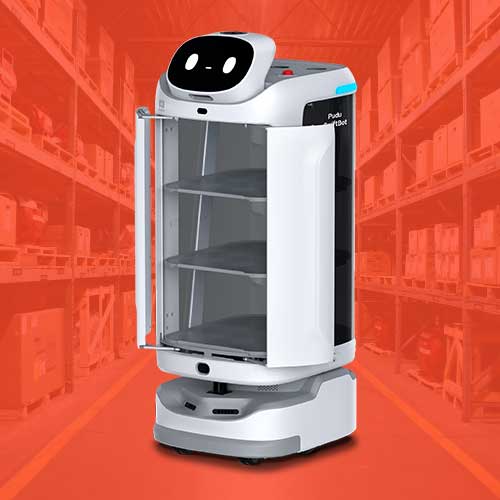 SwiftBot Delivery Robot
All-powerful delivery robot. Choose between secured delivery of goods or open delivery.
KettyBot Delivery Robot
Delivery and reception robot with ad display. Promotion, service and delivery abilities.
CC1 Cleaning Robot
Commercial automated cleaning robot. Suited to all commercial environments. 4 Cleaning capabilities.
Increase Staff Efficiency by 50%
Struggling to recruit staff? Service robots are here to reduce your costs and improve efficiency. 
Industry Applications for Automated Service Robots
How can service robots help your business? 
Always On Time, Always Working
Feeling the pinch of
rising wages and overheads?
Estimated savings over 3 years
Why DSR Technologies?
If you are looking for an all in one solution, DSR technologies can provide the robots and support to integrate them into your business. 
Pudu2 Automated Delivery Robot
The PuduBot 2 is a versatile Universal Delivery Robot that boasts auto-charging and high-performance capabilities. With four adaptable delivery modes, it transitions seamlessly to cater to diverse delivery situations. Its open yet sturdy trays make it suitable for tasks across manufacturing, healthcare, hospitality, and retail sectors. Plus, its robust design shields it from dust and water, ensuring it thrives effortlessly in these varied settings.
Support 4 Different Delivery Modes

Up to 7 Trays and 40kg Max Load
Bella Automated Delivery Robot
BellaBot – the ultimate delivery robot for your restaurant. With customisable audio and commands, advanced avoidance technology and constant updates for continuous improvement, BellaBot is a game changer for your delivery and bussing services. BellaBot can carry multiple orders on each tray, making it efficient and reliable. Plus, with a long battery life on a single charge, you can rely on BellaBot for all your delivery needs. Say goodbye to labor shortages and hello to increased efficiency with BellaBot as your delivery robot.
HolaBot Universal Delivery Robot
HolaBot is a delivery robot that innovatively applies autonomous robots to food and other fields. Equipped with intelligent delivery, high carrying capacity,pagering function, and voice control module, HolaBot is aiming to boost the turnaround efficiency in restaurants. 
Pager Function & Voice Recognition
KettyBott Automated Delivery Robot
With AI voice interaction, KettyBot intelligently greets and interacts with passing through customers by waking up its screen. Such a cute and smart KettyBot would obviously draw more attention than the traditional approach!
Support 4 Different Delivery Modes

Up to 7 Trays & Accessories
SwiftBot Automated Delivery Robot
Powered by industry-leading collision sensing technology and Pudu-developed advanced algorithm, SwiftBot aims at being the most intelligent and secure commercial delivery robot. SwiftBot can detect passer-by and initiatively make way for pedestrian in a timely manner. Even in a highly dynamic and complex environment, SwiftBot can conduct and complete its tasks with ease, while at the same time surprises you with its multifunctionality and high-reliability.
35kg Carrying Load with 3 Trays

Standard and Closed Door Available
CC1 Automated Cleaning Robot
The PUDU CC1 Intelligent Commercial Cleaning Robot is a revolutionary cleaning solution that offers digitisation and visualisation of cleaning effects. It collects and summarises the working status of each unit, automatically generating a cleaning report that ensures stable efficiency and higher quality of cleaning. With this robot, you can lower recruitment, training and management costs, reduce employee injuries and absences, and easily deal with custodial inspections with digital reports.
4 Cleaning Options - Mop, Scrub, Sweep, Vacuum

15L Water Tanks (Clean & Waste)

Auto Water and Waste Emptying
FAQ's About DSR Service, Delivery and Cleaning Robots
Contact our sales team to arrange a free demo and quote